Author(s):
Joshua Berlinger and Sugam Pokharel
Language of the news reported:
(CNN) More than 700 people are believed to have been killed in massive floods and landslides that have rocked Bangladesh, India and Nepal this month, aid workers say.
It is the worst flooding that some parts of South Asia have seen in decades, with about 24 million people affected, the International Federation of Red Cross and Red Crescent Societies (IFRC) said.
"The situation is going from bad to worse," said Jagan Chapagain, the IFRC's under secretary-general for programs and operations. "Entire communities have been cut off. The only way to get aid to some of these villages is by boat and many are running out of food."
August is monsoon season for South Asia, a time when much of the subcontinent is inundated with heavy rains. Officials worry that things could get worse as the season gets into full swing.
Reaz Ahmed, the director-general of Bangladesh's Department of Disaster Management, told CNN that 118 people have died so far and more than 45,000 homes have been destroyed in his country.
"This is not normal," he said. "Floods this year were bigger and more intense than the previous years."
The Red Crescent said the flooding in Bangladesh is the worst the country has ever seen.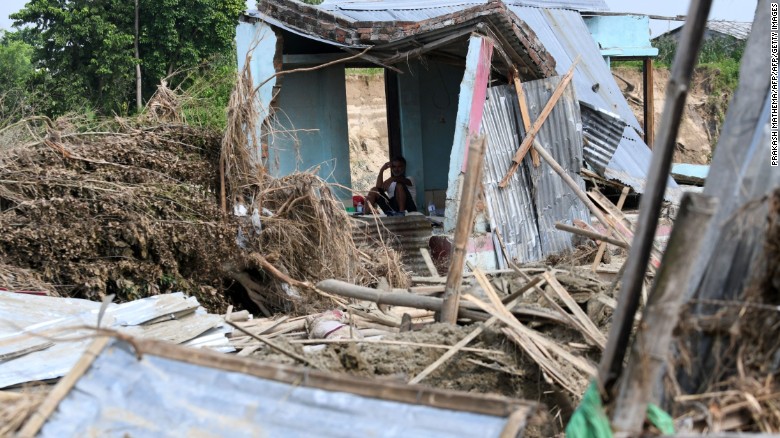 A man rests in his house damaged by flooding some 250 kilometers from Nepal's capital Kathmandu on August 16.
In neighboring India, nearly 400 people have been killed in three of the country's affected states: Assam, Bihar and Uttar Pradesh. CNN is still attempting to get figures for West Bengal, which was also affected.
Bihar was the worst-hit of the Indian states, with 304 people dead after the flooding there.
To the north in Nepal, at least 143 people have been killed, with another 30 missing and 43 injured from floods and landslides since August 11, said Ram Krishna Subedi, a Nepal Home Ministry spokesman. Nearly 80,000 houses have been damaged.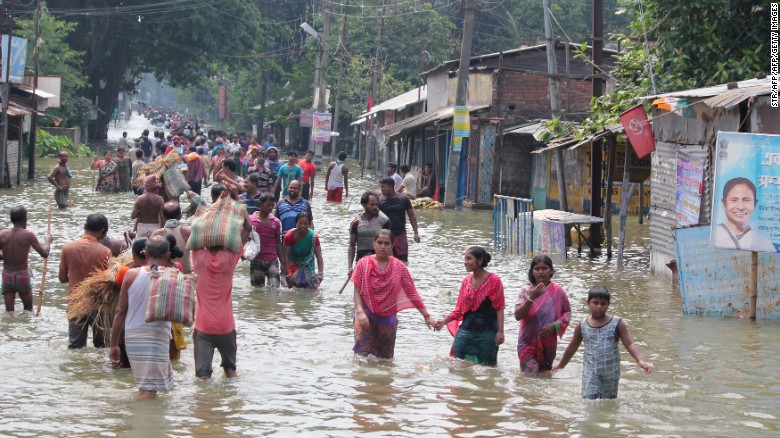 Residents wade through flood waters in the Indian state of West Bengal on August 17.
Subedi told CNN that the type of storm was something Nepal has not seen in about 60 years, which contributed to the high death toll and heavy destruction.
"The rains that caused this flooding and landslides were very peculiar. Strong cloudbursts triggered heavy rains ... something that is not possible to predict ahead of time," Subedi told CNN.
Fortunately, the situation in Nepal appears to be getting better, Subedi said.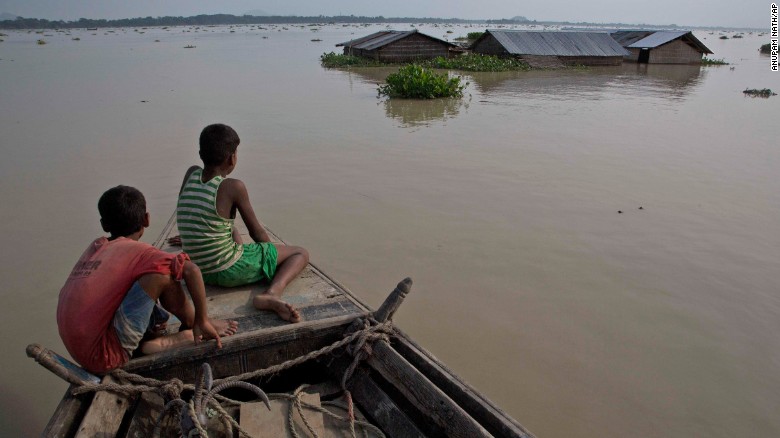 Flood-affected villagers travel by boat in floodwaters in the Morigaon district in the northeastern Indian state of Assam on August 15.
But as the waters recede, rescue workers worry that tainted water supplies and sanitation issues in the flooding's aftermath could lead to a spike in deadly diarrhea and malaria cases.
Urbanization risks
Southern Asia is one of the wettest areas in the world.
China, India and Bangladesh have accounted for the majority of the world's flooding deaths since 1950 -- with many cities built on river deltas at risk of flooding. Those that were built hastily, without proper urban planning to account for flooding, are at even greater risk.
Climate change could exacerbate those dangers.
"A lot of the urbanization ... has happened in a largely unplanned matter," Abhas Jha, the World Bank sector manager for transport, urban and disaster risk management for East Asia and the Pacific, told CNN. "They don't have risks adequately taken into account; they don't invest enough in sustainable drainage."
CNN's Karma Gurung, Ben Westcott and Steve George contributed to this report
--
Photo source: The Advocacy Project via Flickr/Creative Commons (CC By-NC-ND 2.0). Photo: ©The Advocacy Project